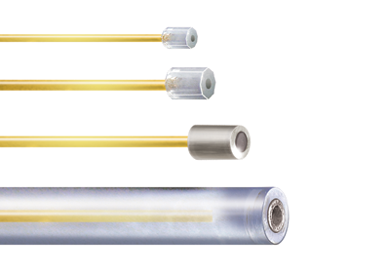 Opsens Solutions' OPP-M is a MEMS-based fiber optic pressure sensor † designed for industrial applications.
The sensor has a diameter of 0.20 mm OD allowing integration into the monitoring devices that require miniature sensors.
The bare optical pressure sensors are dedicated for company that wishes to performs own in-house sensor packaging unique to their product.
The encapsulation can be done on the sensor tip and/or throughout the whole optical cable in different materials and sizes; customizable according to client's specific OEM applications. The packaged sensor significantly reduces the R&D investment and integration efforts hence minimize the overall cost on implementation and manufacturing processes.
Combined with Opsens Solutions' WLPI signal conditioning technology (patent # 7,259,862) and with the inherent advantages of fiber optic, the OPP-M offers long term accuracy, repeatability, low drift and high fidelity pressure measurements under the presence of harsh EM, RF, MR and microwave fields.
† Patent pending
Benefits
Ultra miniature
High fidelity
Custom sensor packaging
EMI/RFI immunity
Low cost
Applications
Pressure monitoring

in

confined places

Pressure measurement under and MW/RF related practices
| | |
| --- | --- |
| Dimension (mm O.D.) | 0.20 mm OD |
| Pressure range | – 300 mmHg to + 350 mmHg (Relative to atmospheric pressure) |
| Precision | ± 1 mmHg |
| Resolution | 0.2 mmHg |
| Moisture drift (typical) | < 3 mmHg/28 days |
| Thermal coefficient of Zero (typical) | 0.2 mmHg per °C |
| Proof pressure | 4000 mmHg |
| Operating temperature | 10 °C to 50 °C |
| Operating humidity range | 0-100% |
| EM/RF/MR/MW susceptibility | Complete immunity |
| Cable length | 1.5 meters standard (Other lengths available) |
| Optical connector | SC standard |
| Cable sheathing | Customer specifications |
| Signal conditioner compatibility | All Opsens Solutions' WLPI signal conditioners |
*The OPP-M product is designed to be integrated into customer host system but is not approved by the FDA or by any applicable regulatory bodies.

Opsens Solutions Inc. reserves the right to make any changes to the above specifications without prior notice.
Do you need help to find your optic pressure sensor ?