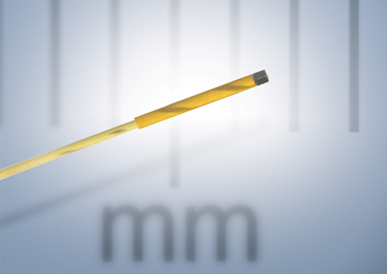 Opsens Solutions' OTG-R fiber optic temperature sensor offers the highest performances in the industry. The probe is perfectly tailored for reliable measurement of Electromagnetic Environmental Effects on Electrically Initiated Devices (EID's). The OTG-R sensor uses the well proven technique based on the temperature-dependent bandgap of GaAs crystal as the temperature transduction mechanism. Its small sensing GaAs crystal located at the tip of the optical fiber makes it convenient for bridge wire assembly and temperature monitoring for HERO/RADHAZ applications.
Opsens Solutions' OTG-R is immune to mechanical vibration and accepts extension cables without any signal degradation. The OTG-R delivers unprecedented repeatability and reliability in the most adverse conditions such as high level of EM, RF, MR and microwave field environments.
The OTG-R is made with industry standard optical fiber and is compatible with Opsens Solutions' SCBG (Semiconductor Bandgap) RadSens signal conditioner. This compact and robust fiber optic temperature sensor is available with different optical cables and sheath options and is customizable according to customer specific applications.
Opsens Solutions offers not only customized OTG-R sensors, we also provide custom installation services on a variety of EEDs available in the market.
Benefits
Fast response time
Small and robust design
Resolution of < 35 dB below NFT
Complete immunity to mechanical vibration and multiple optical connections
Intrinsically safe
Immune to EMI, RFI and electrical interferences
Applications
HERO/RADHAZ assessment
Electronic Explosive Devices type application
Dynamic temperature monitoring application
Surface point temperature type application
| | |
| --- | --- |
| Temperature operating range | 0 °C to +120 °C (Higher temperature ranges available upon request) |
| Resolution | < 35 dB below NFT |
| Response time | < 5 ms |
| MRI/EMI/RFI susceptibility | Complete immunity |
| Cable length | 1.5 meters standard (Other lengths available) |
| Optical connector | ST standard |
| Sensor diameter | 0.15 mm O.D. (Smaller version available upon request) |
| Cable sheathing | PVC tight buffer (Other option available) |
| Signal conditioner compatibility | Opsens Solutions' SCBG RadSens signal conditioner |
Opsens Solutions Inc. reserves the right to make any changes to the above specifications without prior notice.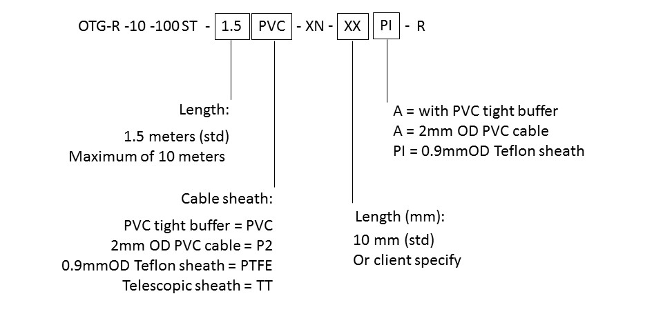 Do you need help to find your optic temperature sensor ?