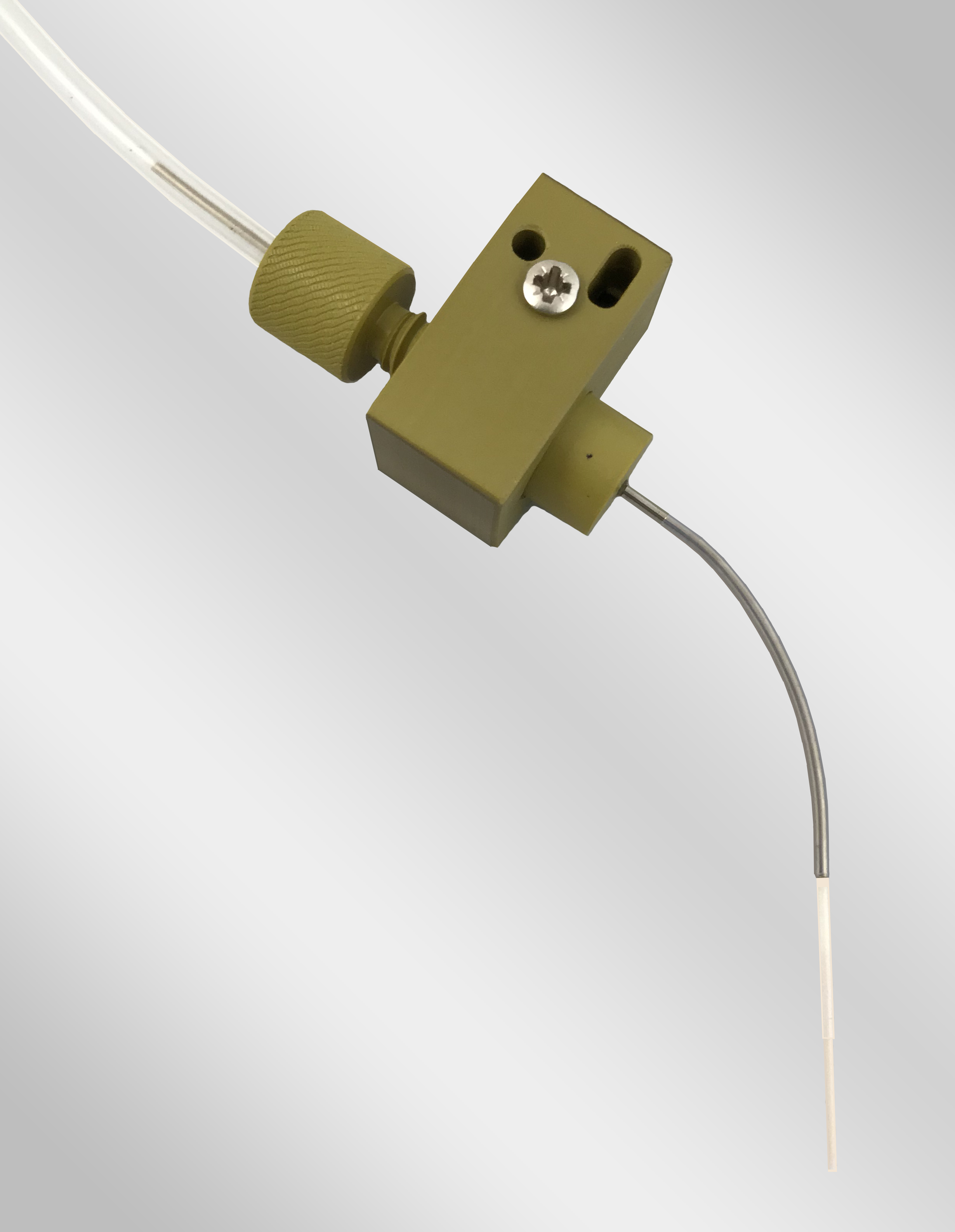 The OTG-PM is made with industry standard optical fiber and is compatible with all Opsens Solutions' GaAs (SCBG) signal conditioners. Its small size and fast response time are perfectly tailored for complicated instrumentation projects, such as those related to power semiconductor devices.
The miniature sensor head (0.15×0.15 mm) protected by a tube (0.22 mm OD) is handling through a clever retractable design: rigid ceramic tubing (0.64 mm OD) allows for easy piercing of the silicone gel layer for precise sensor positioning. The upper stainless-steel tubing coated with Teflon is curved to optimize eye contact from any viewing angle during manipulation.
To facilitate the mounting and instrumentation of the power modules, the sensor is equipped with a bracket that allows for quick and precise angle adjustment while ensuring the required stability. Delivering unprecedented repeatability and reliability in the most adverse conditions such as high levels of EM, RF, MR and microwave field environments, the sensor is deployed in many power electronics modules or converters for quality control, reliability assessment, or permanent surveillance of those critical devices.
This compact and robust fiber optic temperature sensor is available with different optical cables and sheath options and is customizable according to customer specific applications or for OEM-type applications.
Benefits
Immune to EM and RF interferences
Smart retractable design enabling measurement through silicon gel
Small size (.22 mm OD tip) but robust
High Temperature range (up to 350 °C)
Non-invasive (very low thermal mass)
Fast response time
Practical holder to optimize sensor position
Applications
Mission profiling
Thermal stress analysis
High voltage environments
Junction temperature evaluation of transistor
Temperature mission profile of power modules
Quality control of integrated circuit
Thermal modeling assessment
Active monitoring of power electronics during service
| | |
| --- | --- |
| Temperature operating & calibrated range | -40 °C to +250 °C (other ranges available upon request) |
| Accuracy | ± 0.8 °C or better (including both signal conditioner and sensor errors) |
| Operating humidity range | 0-100 % |
| MRI/EMI/RFI susceptibility | Complete immunity |
| Calibration | NIST traceable |
| Cable length | 1.5 meters standard (Other lengths available) |
| Optical connector | LCA, ST standard |
| Cable sheathing | Teflon™ PTFE (other materials for sheathing available) |
| Signal conditioner compatibility | All Opsens Solutions' GaAs (SCBG) signal conditioners |
Opsens Solutions Inc. reserves the right to make any changes to the above specifications without prior notice.
Do you need help to find your optic temperature sensor ?